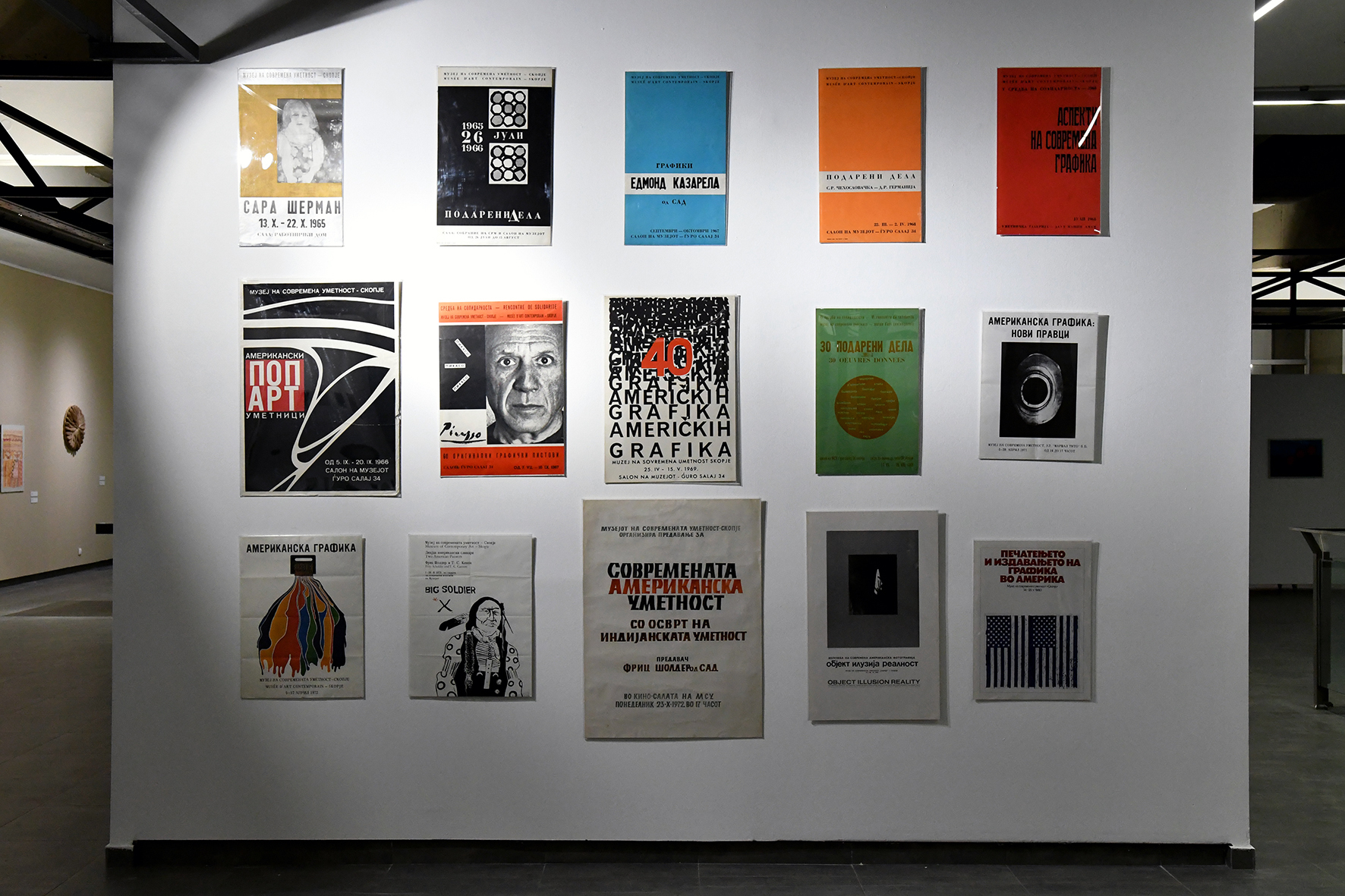 Amid an atmosphere of transnational collaboration and optimistic enthusiasm, encapsulated in the 1966 U.N. report titled "Skopje Resurgent," the Museum of Contemporary Art mounted a diverse program of exhibitions. Under the tutelage of founding director Boris Petkovski, followed by Sonja Abadžieva, the Museum organized solo shows of emerging American artists, among them Sheila Hicks, Sarai Sherman, and T.C. Cannon, and surveys of Polish, French, Yugoslav, Italian or former Czechoslovakian gifts to the collection. A prize awarded by the Museum at the Ljubljana Biennial of Graphic Arts also brought new works into the MoCA Skopje collection. Won simultaneously by Jasper Johns (1965) and Metka Krašovec (in 1972), the award reflects a multinodal, globalized art world in which the artists were peers and Skopje was one of many interconnected cultural centers. By fostering such adjacencies, the MoCA Skopje collection testifies to a radically cosmopolitan, multicultural legacy for socialist southeastern Europe.
Curators of the exhibition: Anna Kats and Kumjana Novakova.
The public programme is developed in collaboration with Cara Manes, while a collaborator of the programme for art critique is Kat Harimann.
The visual identity and graphic design is signed by Elena Dinovska Zarapciev, while the exhibition design is developed by Ana Ivanovska, Jovan Ivanovski and Vladimir Deskov.
Conservators of the artworks within the exhibition are Ema Petrova and Ljupco Iljovski.
Featured artists: Alex Katz, Alexander Calder, Allan D'Arcangelo, Ann Chenok, Anna Eva Bergman, Antti Nieminen, Bernard Childs, Bradford Graves, Bridget Riley, Burt Chernow, Christo, James Cuchiara, David Hockney, Domenick Capobiancko, Edmond Casarella, Emilio Greco, Gabor Peterdi, Garo Z. Antreasian, GrishaDotzenko, Ion Grigorescu, Ivan Kozarić, Jasper Johns, Jeff Russell, Joann Maier, John Jagel, Leonhard Lapin, Luis Camnitzer, Marvin Lipofsky, Masaji Yoshida, Metka Krasovec, Minna Citron, Mira Spirovska, Miroslav Sutej, Nicholas Sperakis, Paolo Boni, Petar Lubarda, Robert Conover, Robert Cronbach, Robert Earl Gardner, Sarai Sherman, Sol LeWitt, Tadeusz Myslowski, Tonis Vint, Volpi Alfredo, Wifredo Lam.