The Concept for Artistic Expression
The lecture of professor Dushan Perchinkov entitled Concept for Artistic Expression is addressing the different stages of the creative process with an emphasis on the concept as something that is also part of the practical approaching the formation of the definitive artistic expression. Putting it in in the context of a complex linear, but also non-linear development of the process, the concept of visual expression will be presented through examples from the history of art, including classical and modern artists such as Rembrandt, Picasso, and Mondrian.
Vladimir Jancevski will conduct the conversation.
The entrance is free.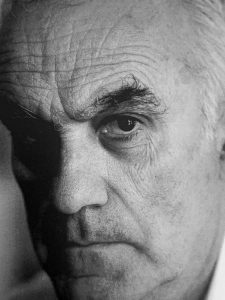 Dushan Perchinkov (Skopje, 1939) is one of the most significant and authentic Macedonian artists. He graduated from the Art Academy in Belgrade in 1963 and received his master's degree from the same academy in 1966. In the period from 1966 to 1969, he worked as a freelance artist and teacher in several elementary schools. Since 1972, he has been an assistant in the cabinet for art education at the Faculty of Architecture in Skopje, and in 1980 he started working at the Faculty of Fine Arts in Skopje, as a professor of drawing and painting, until his retirement.
In 1978, together with Petar Hadji Boshkov, Tomo Šijak, Marko Pogačnik, and the Šempas Company, he represented SFR Yugoslavia at the Biennale in Venice. In addition to painting, since 1973 Perchinkov has been actively researching the field of graphics, and his graphic maps are distinguished by sophisticated, complex, and conceptually thought-out content.
Since 1980, he has been realizing his ideas as three-dimensional art objects. In his works, Dushan Perchinkov carefully and in an original way observes the environment (the landscape, urban areas), creating soft surrealistic representations with simple signs and shapes, towards the end of the sixties he oriented towards abstract strictly geometric compositions with a pastel color, with a recognizable author's expression of fine art. Perchinkov's works are included in the collections of numerous museums and galleries in the country and abroad.
He is a winner of several awards and recognitions, including the "11 October" Award for painting in 1969.
The lecture is part of the Interdisciplinary Program of MSU-Skopje under the title "Dis/order In The World of Art", which is realized within the framework of the Annual Program financially supported by the Ministry of Culture of the Republic of North Macedonia.