Open Call for a Workshop with Lia and Dan Perjovschi
Draw, Chat and Share
On April 6 (Thursday) starting at 12 noon, the world-renown artists Dan Perjovschi and Lia Perjovschi will hold a workshop at the Museum of Contemporary Art – Skopje.
All those interested can register at the following link:
https://docs.google.com/forms/d/e/1FAIpQLScZMimxrdAhUy1WfjNxJVk83FrUDmc5qwl0pcLx-etVqF69rQ/viewform?vc=0&c=0&w=1&flr=0
The aim of the workshop is to create community and awareness through drawing. The drawing will be the medium, and the publication will be its result. There is no single or best drawing. We are equal, and we all have our own ideas and visions around which we meet, discuss, and draw together. But who are we, and what do we want to do, or what can we do? How do we deal with limited resources? What is plan B, or plan C? First we get to know who we are. We find a topic we agree on and draw, the topic can be one of the urgent global situations today, or something personal, yet everyday. Through conversation we will work on ideas, and through group discussion we will show each other what and why we have done. The drawings will be linked in a fanzine that will be copied in a number of copies for each of the participants.
In the end, each goes home, with the other's vision.
Language of the workshop: English
Art medium: Drawing
Duration of the workshop: 2h x 2h
Workshop product: Fanzine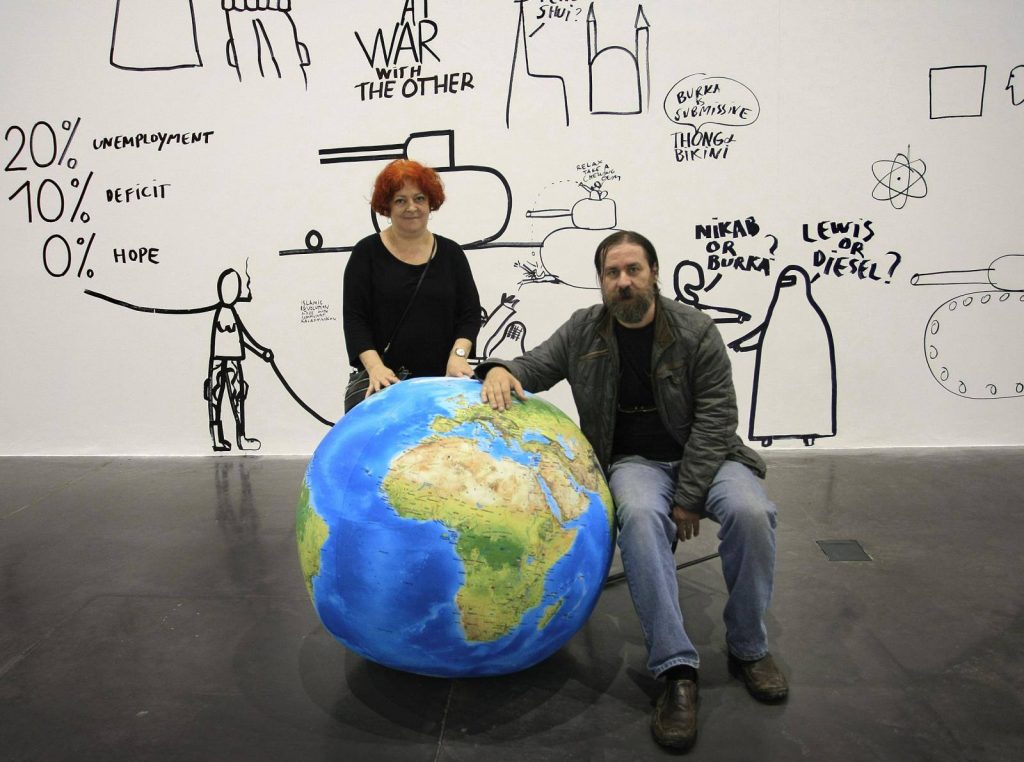 Lia Perjovschi is a researcher, editor, and a conceptual and installation artist working with mind-maps, timelines, and education as mediums. She founded several platforms and institutions: Contemporary Art Archive Bucharest, The Knowledge Museum or The Telescopic Space of Knowledge. Lia Perjovschi had a large number of solo shows, such as at Nasher Museum at Duke University, Ivan Gallery Bucharest, ESPAI Castellon, and participated in numerous group exhibitions at Pompidou Center in Paris, Tate Modern in London, MACBA Barcelona, and at the Sao Paolo and Sydney Biennials. TSK is permanently installed at Astra Library in Sibiu Romania
Dan Perjovschi is an artist and journalist. He uses drawing in a multitude of forms, wall drawing, drawing performances, activist drawings, artist books, public space projects, printed media, and independent publishing. He had solo shows at Moma New York, Tate Modern, Van Abbemuseum Eindhoven, Macro Roma, Kiasma Helsinki and Ludwig Museum Cologne to name a few. He participated in numerous group exhibitions such as Documenta 15, Venice, Istanbul, Lyon, Jakarta, Sao Paolo, and Sydney biennials.