Afghanistan is a country with a great culture and tradition, during which a refugee crisis is taking place, in which a large part of Afghans are forced to leave their homes. It is a real gesture of solidarity that more countries of the world, including ours, have joined in providing temporary refuge to these people. MSU decided to enrich the film program with the promotion of Afghan films in order to bring the originality of the film production of this country closer and thereby contribute to the world action of solidarity, which our country has shown to refugees, not for the first time.
December 2 (Thursday), at 7 p.m.:
"The Forbidden Reel", a documentary film by the Canadian-Afghan director Ariel Nasr, will introduce us to the Afghan film story. The director tells the history of Afghanistan from the second half of the 20th century, which was marked by violence and oppression, through the perspective of Afghan film history. Interviews with film historian Mariam Ghani, filmmakers Latif Ahmadi and Siddiq Barmak, actress Yasmin Jarmal, and other key players are interspersed with film excerpts—both fiction and documentary—from the archives of the national film institute, Afghan Film. They show a rich culture at a time when the country has undergone many drastic changes, from the communist regime and the war with Russia to oppression by the Islamic fundamentalist Taliban.
December 3 (Friday), at 7 p.m.:
"Kabul, City of the Wind," a feature-length documentary by Afghan director Abozoar Amini. Amini, who himself fled Afghanistan as a young man, shot this film in Kabul over a period of three years. After experiencing several terrorist attacks during demonstrations he decides to exclude any direct violence from his film. Instead he shows us the daily routines/details of two children and a bus driver, set against the backdrop of a city destroyed by political and religious forces. The city is an orchestration of its inhabitants, and the film itself shows us how adaptable human nature is, even when surrounded by violence. In 2018, the film opened the largest documentary film festival in Europe – IDFA, in Amsterdam.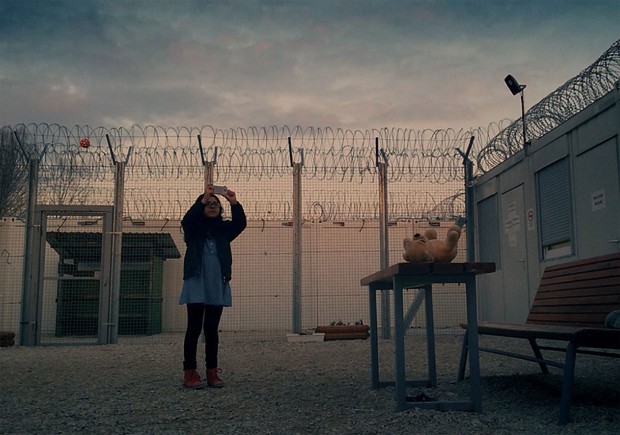 December 9 (Thursday), at 7:00 p.m.: .
"The Midnight Traveler." In 2015, after Hassan Fazili's documentary Peace in Afghanistan was aired on Afghan national television, the Taliban killed the film's main subject and put a price on Fazili's head. Fearing for their survival, the Fazili family flees from Kabul to Tajikistan. However, after 14 months of unsuccessful asylum applications, they were deported back to Afghanistan. It was at that moment that Fazili pressed the record button on his mobile phone.
Chronicling every step from inside the action, Fazili, his director wife and their young daughters travel across Iran, Turkey, Bulgaria and Serbia – rushing through dangerous landscapes, huddling through frozen forests, cramming into transport vehicles. As they endure smugglers, gangs and refugee camps, the camera witnesses not only the danger and despair, but also the exuberance and tenderness of this irresistible, loving family. For Fazili, framing their story becomes an affirmation of control, humanity and self-expression in a situation where none exists. With its radical subjectivity and poetic form, Midnight Traveler is a migration story like no other. The film premiered at Sundance in 2019.
December 10 (Friday), at 7 p.m.:
Hawa, Mariam, Ayesha, feature film. "Filmmakers don't realize their power." If they raise their voice in solidarity for the people of Afghanistan…Toa will help" – Afghan film director Sahra Karimi called for solidarity from all over the world united to raise their voice to help Afghanistan. Her latest feature film Hawa, Mariam, Ayesha premiered at the 2019 Venice Film Festival. To this day, the film updates the topic of the position of Afghan women around the world. It follows the story of three Afghan women from different social backgrounds, living in Kabul, facing a major challenge in life. Hava, a traditional pregnant woman who no one cares about, lives with her father and mother-in-law. Her only joy is talking to the baby in her womb. Mariam, an educated TV reporter, who divorces her unfaithful husband, but finds out she is pregnant. Ayesha, an 18-year-old girl agrees to marry her cousin because she is pregnant by her boyfriend who disappears after hearing the news. Each of them has to solve the problem by herself for the first time.
The selector of the program is Darko Nabakov, responsible for the film program of Cinema MSU Skopje