24. September – 14. October 2019: RANKO DAKIKJ, retrospective exhibition
The art work of Ranko Dakikj (1958, Скопје) will not open some stunning new views in painting or sculpture, which are two main media of his interest. Newness is something that is hardly expected by any work of art nowadays. But it could, for instance, open up in some unexpected ways his inner worlds, as well as to enable a surprising reading of the Macedonian art history.
The exhibition will present over fifty paintings, sculptures and drawings by Ranko Dakikj made in the last 30 years since he left Macedonia in 1987 to make a career in Germany.
27. September – 27. October 2019: GREEK CONTEMPORARY ART FROM THE COLLECTIONS OF MOMUS, THE METROPOLITAN ORGANIZATION OF MUSEUMS OF VISUAL ARTS OF THESSALONIKI, GREECE.
24. October – 20. November 2019: OTHER SCALE OF THINGS – an installation within a display of the MоCA's collection, history and archives

The exhibition "Other scale of thigs" opens several dilemmas in one condensed place – what solidarity means when values that shed new light and provide different view to existing entirety of knowledge are in question?
And does contemporaneity, seen as an antagonistic place of several parts of the past, can provide us new truths, as part of our political desire for the future? Are there any other aspects that can be considered while we interrogate their present meaning?
In the middle of the other scales is the installation "ArchiLeaks" by the architect and artist Srdjan Jovanovic Weiss and it is especially created for this exhibition.
Curated by Ivana Vaseva
18. November 2019: THE AMERICAN COLLECTION AT THE MUSEUM OF CONTEMPORARY ART SKOPJE
05. November – 08. December 2019: BAU1HAUS – Bauhaus and world modernities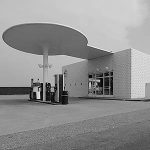 The exhibition of photography of Jean Molitor is part of Bauhaus100 which celebrates the centenary of the founding of the Bauhaus.
08. November – 08. December 2019: NIKOLA RADULOVIKJ: SYSTEMA
The exhibition of Nikola Radulovikj comes as the result of the award of the Museum of Contemporary Art Skopje given to the artist at the 18. Biennial of Young Artists, 2018.
20. December 2019 – 01. January 2020: ALL WE HAVE IN COMMON (PART 2)
The second part of All We Have in Common continues to explore actual themes and subjects in the work of artists from the region and Europe.